You don't need a fancy custom-built design portfolio website to stand out. Here are some free options that you can use to host your design portfolio and get the job done.
---
There are many different ways you can go about creating your design portfolio to showcase all of your creative work. While some of the options require you to sign up for a monthly subscription, that may not be an option for you at the moment. So what are some of the best free options that you can utilize to host and showcase your design portfolio?
After researching all of the free design portfolio options, I have divided them into three categories; showcase, build your own, and alternative. I have found that the best top free websites to use for your design portfolio currently are Behance in the showcase category, Readymag in the build your own category, and Notion in the alternative category. All of these options are free to sign up for and don't require you to pay for a monthly plan and they are all simple to use which means you can get your design portfolio up and running quickly.
In this article, I'll go over each of the free design portfolio website options, the features they include, and my personal thoughts so you can choose the best free design portfolio website for you. 
Types of Free Design Portfolio Websites
Before we dive into each of the free design portfolio options, it is helpful to understand the three categories of websites that we will discuss in this article. The first is the "Showcase" websites. This category of free design portfolio websites allows you to upload and share your projects in a relatively predefined layout. These websites require no payment whatsoever. They also allow you to easily search and discover other projects and designers in your space. This is a great feature because it becomes a resource for inspiration and also allows other designers, creatives, and potential clients to discover your work, which we know can lead to new paid opportunities.
The second category is what I call the "Build Your Own" website. This category consists of free design portfolio websites that require you to build the actual website layout for you to display your design work. These websites provide you with more customization to create a design portfolio that fits your personality and style of work. While building your own website can take some time, these websites include templates you can use as a starting point. In addition to building your website layout, you will also have to consider how you will promote and market your website as this category of websites does not offer a "showcase" or "discover" feature where you can explore other similar design portfolios on the platform.
The third category of free design portfolio website options is the "Alternative" category. This category is made up of websites and platforms that were not originally intended for hosting your design portfolio but can absolutely be a quick and easy solution to do so. These options have been used by other designers and are somewhat admired for their disregard for aesthetics and focus on content.
Now with our three categories defined, we can jump into our list of free design portfolio website options, starting with the Showcase type options.
Best Free "Showcase" Design Portfolio Websites
Behance
Behance, owned by Adobe, is a portfolio website option that is very popular in the design and creative industry. Behance allows users to upload text and imagery about their projects in a very simple and relatively predefined layout. In order to start uploading your design portfolio to Behance, you will need to create an Adobe account but don't worry. Behance is completely free to use no matter how many projects you upload unlike some design portfolio website options in this article. Since Behance is a community for all types of creatives, you can also find portfolios in photography, 3D design, illustration, motion, architecture, fashion, and many more. Behance has become so popular amongst designers and creatives from other industries, that it has also drawn the attention of companies, creative directors, and hiring managers when looking to fill new design jobs and opportunities. This is great because you become a candidate for these opportunities as they search Behance for good work. However, Behance does function in a way like a social network and because of that, the popularity and awareness of your projects rely on certain factors of the platform like being featured in Adobe application galleries and interacting with other creatives.
Uploading your design project to Behance is super easy and straightforward. Behance provides you options to upload images, text, video, audio, photo-grids, and even elements like NFTs and prototypes. These elements can be placed in any order you would like to really create a story with your design projects. Once you have laid out your design project and adjusted all the styling to your liking, it is worth it to take the time and fill out the additional detail fields that Behance provides. These extra details help provide more context about your project and also help with it potentially being discovered by others visiting the platform.
Overall I think Behance is a great website to host your design portfolio. It has an amazing community and they make it super easy to upload your design projects and really tell a story about your projects. The extra value added by having such a large and diverse community of creatives and creative employers also makes it a solid choice giving you the opportunity to find new creative opportunities. Since Behance is also owned by Adobe, if you don't already have an Adobe Creative Cloud subscription, you can check out my special link for 60% off the Adobe Creative Cloud subscription for all students and teachers. ‍
Dribbble
Dribbble spelled with three b's is another showcase-type design portfolio option with a bustling community. Dribbble is more focused on different fields of design. This includes branding, animation, product design, typography, web design, and more. Over the years Dribbble has grown in popularity amongst designers and in my opinion, has formed somewhat of a cult following. The creatives that started using Dribbble early on have seemed to stick with the platform and now contribute to the website on a regular basis. With Dribbble, instead of posting full design projects from your portfolio, Dribbble encourages sharing what they call "shots". Shots can be anything from work in progress imagery, smaller elements of larger projects, and other pieces or previews of what you are working on. Dribbble is free to create an account and use but also offers a premium account that grants you access to more features such as uploading a gallery of images for your shots.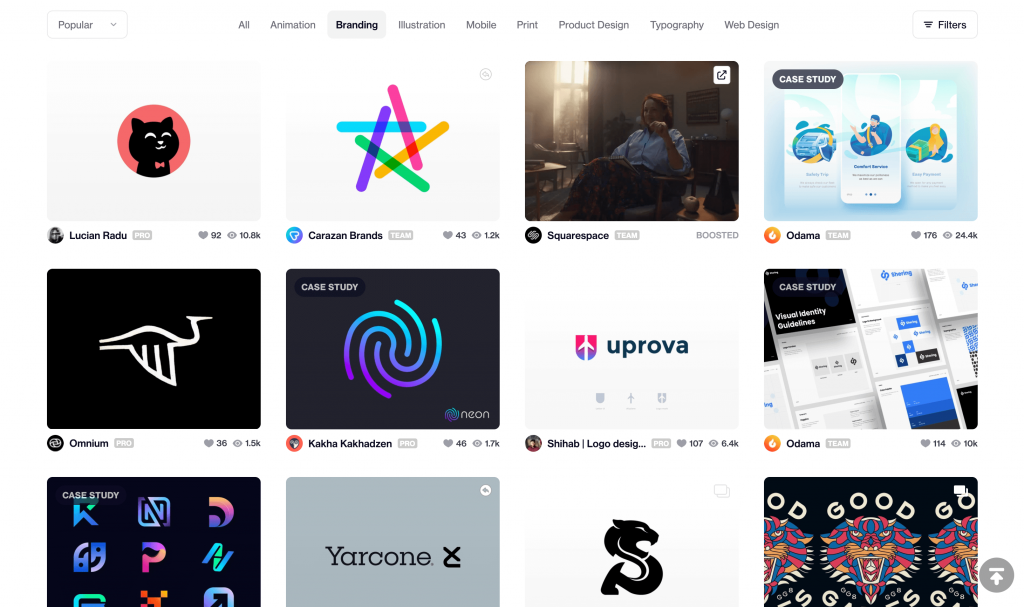 Sharing a shot on Dribbble is easy. Simply upload an image, give it a name, and a brief description, fill out some additional details for the platform, and then hit publish. Dribbble similarly to Behance also operates in a way like a social network allowing users to comment, like, and share the work of other designers. Getting more views on your shots depends on your network and how active you are on the platform. Dribbble's community is not only filled with other designers but also companies and hiring managers looking to find top talent for their available roles. This means more opportunities for you!
As a free portfolio website option for designers, Dribbble is not exactly my go-to choice. As Dribbble focuses more on smaller bits and pieces of design projects, it makes it a little more difficult to really craft a story or case study around your work. However, Dribbble is a great tool to use as a designer to share work regularly which can absolutely be used to your advantage when going for new design opportunities.
WorkingNotWorking
WorkingNotWorking is a showcase design portfolio website option that was launched with the intention of giving designers and creatives the ability to display when they were available or unavailable for new projects and opportunities. WorkingNotWorking is used by creatives not only in the design industry. Designers, photographers, directors, copywriters, strategists, and many more all use WNW to connect with the best creative companies. WorkingNotWorking was acquired by Fiverr in 2021 to add to their network but that hasn't taken anything away from the platform when it comes to using it for your design portfolio. In order to upload your design projects to WNW, you will need to create an account and profile first. This includes adding your previous experience, job interests, and a few other details. Once that is complete, uploading a new design project to WNW is easy and similar to Behance and Dribbble.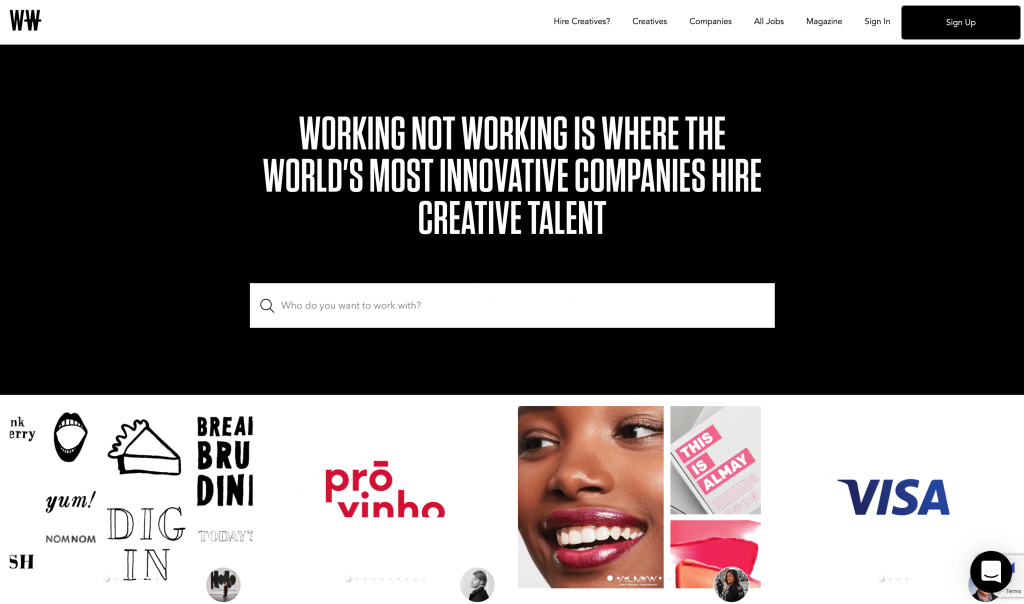 While WorkingNotWorking has a community aspect like Behance and Dribbble. I believe it does a better job of highlighting the creative opportunities available on the platform. I'm a big fan of this because that means even if you are just starting out, you have the ability to find a new role or client project quickly. While the design project functionality is slightly more simple than Behance, I would recommend giving WorkingNotWorking a chance when it comes to using it as a design portfolio website option. ‍
Coroflot
I remember Coroflot was one of my favorite job boards when I was just starting off as a designer but since then it has now evolved to also allow users to upload their design portfolio projects onto their platform. Similar to the other design portfolio options in the showcase category, Coroflot integrates the portfolio feature with their job board so that designers can also find new opportunities. You can also view and follow the work of other designers on Coroflot to stay inspired. Creating an account is a quick process and uploading new projects is just like WorkingNotWorking. You add your design project images, provide a description of the project, and some additional details and you're done.
‍‍Contra
Contra is a new platform for me as I only learned about it during the early days of the pandemic through TikTok. Initially, I was unsure which category Contra belongs in because it is kind of a showcase website and kind of not. Let me explain. Contra is completely free to create an account and use. They allow designers to create their profiles and add projects just like the other design portfolio website options in the showcase category. In addition to this, they also allow users to list the services that they offer to clients because Contra is not only a design portfolio option, but is also a marketplace for creative companies to search for creatives for their available opportunities similar to WorkingNotWorking and Coroflot. The way it differs from some of the design portfolio website options in this category is that you cannot search for other designers or creatives on the platform unless you are in hiring mode which means you have an opportunity or role needing to be filled. So it is not immediately a showcase type of design portfolio option. However, having the ability to be connected to paid gigs through uploading your design portfolio and experience for me is always a plus. Another cool thing that I really really liked about Contra was their partnership with TikTok. This allows anyone on TikTok that connects their Contra to add a badge to their videos so viewers can visit their Contra profile and again potentially hire them for one of the services they offer or for a new opportunity. I can imagine for Contra this is only the beginning of integrating with social platforms as I can see this being a really cool feature on other social platforms like Instagram, Twitter, Pinterest, LinkedIn, etc. While it is not my favorite in the showcase category of design portfolio website options, I would say it is a very solid second pick because of its innovation in the category and I look forward to seeing it grow in popularity amongst the design community. ‍‍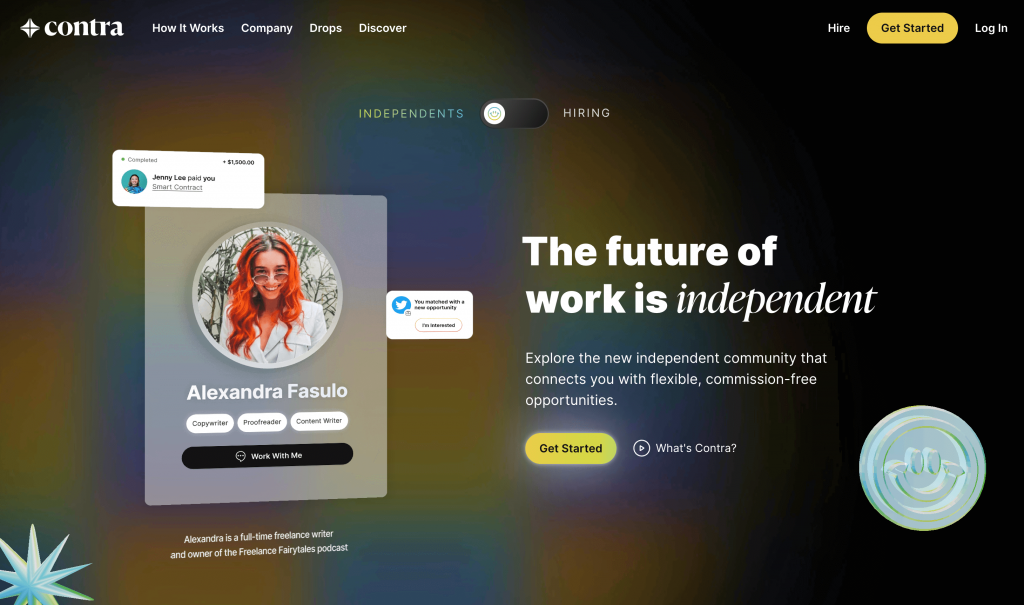 Final Thoughts on Showcase Design Portfolio Websites
All of the options in this category are suitable to use as your design portfolio website if you are just starting out. While some hiring managers and creatives have their opinions about using these design portfolio website options as long-term solutions, the added value of having a community that can also discover your work is priceless and can ultimately lead to more opportunities for you as a designer. Personally, I believe Behance is the most popular of all of the options in this category and is actually used by some designers as their main design portfolio destination. If you had to start with one, Behance is the design portfolio website option that I would recommend to designers and creatives starting off.
Best Free "Build Your Own" Design Portfolio Websites
Wix
While Wix can sometimes get a bad wrap from designers since the platform used to be very rigid when it came to designing choices. I have to say, Wix has come a very very long way. I went ahead and created a free account for the purposes of this article and then decided to choose the fastest and simplest options during their onboarding process to build a website. Basically, I chose to let Wix build me a complete homepage and contact page based on some of the questions they asked during onboarding and within two minutes I had a full website built. The website included a blog, the beginnings of a shop, an Instagram feed integration, and a few other additional pages. Of course, the website wasn't filled in with any of my design projects, but again, I was able to have all of those pages up and running within a few minutes. How great is that!? As for design aesthetic, I went ahead and picked a theme called "FUSE" which looks to be a Helvetica, dark type of a theme, and while I can go on about how this isn't exactly my aesthetic. I don't think I can really complain after they built out 5 pages for me within minutes. If I were to continue using Wix as my design portfolio website I can see how I could focus more on getting the content of each of my design projects ready before I would jump back into the overall design of the website.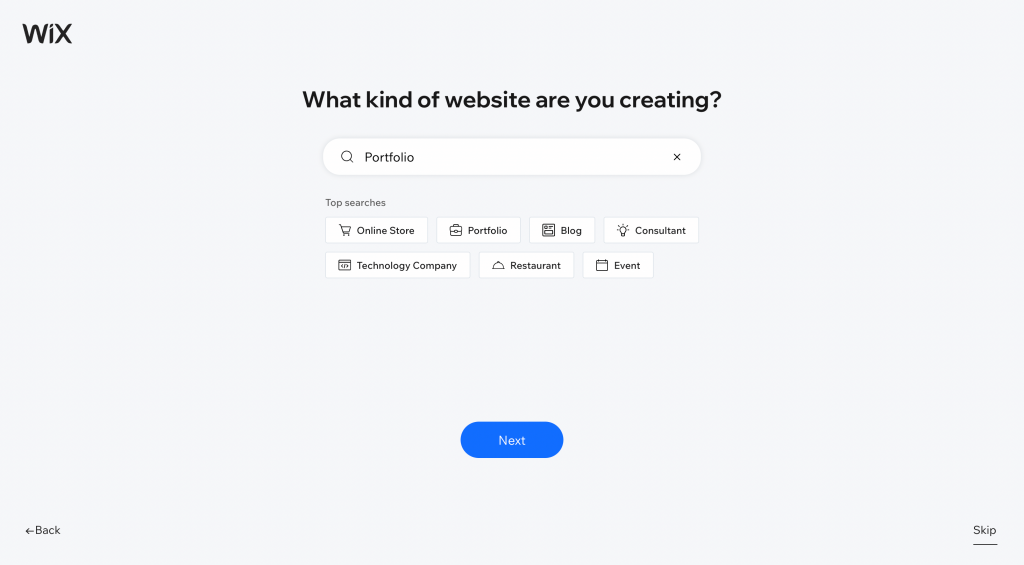 Digging a little bit deeper into the Wix platform, the design interface looks fairly simple to understand. As you click into each panel they provide a nice bit of information so you can understand what you are about to do. Customizing pages is also pretty simple if you are familiar with website builders but also if you are not. As I began to explore how to create new pages I saw my first hurdle with Wix and that is having to create individual pages for your design portfolio projects. If you are trying to get your design portfolio up quickly this will definitely set you back some time. While the way around this would be to create one project page and then duplicate that, replacing all the information with another project. Leaving the design options open and not providing some guardrails can turn into a deep rabbit hole for a designer as we can obsess over small details and make sure everything is "perfect".
Overall I was very impressed with the Wix website builder and how easy it was to actually get a site up and running so quickly. If you'd like to check out the result of my free account creation without editing or adding anything at all you can check out this link here.
If you are interested in using Wix to build your next portfolio as it's a pretty awesome option to build a design portfolio check out this link to create your account and for the lowest pricing on a paid plan.‍
UXFolio
UXFolio is an interesting option within the "Build Your Own" category. UXFolio gives you the ability to start from a completely empty canvas and customize your page design. But, similar to Wix, it also gives you prompts while you are building your design portfolio to enable the ability for UXFolio to generate full pages along with project sections from your selected options which I find to be very cool. These generated pages help to get the ball rolling when it comes to your layout and where you add descriptions and imagery for your design project. At this point, it is worth mentioning that UXFolio is marketed toward designers in the digital product design space but I can also see how you could hack it in a way to work for designers that aren't in that space as well.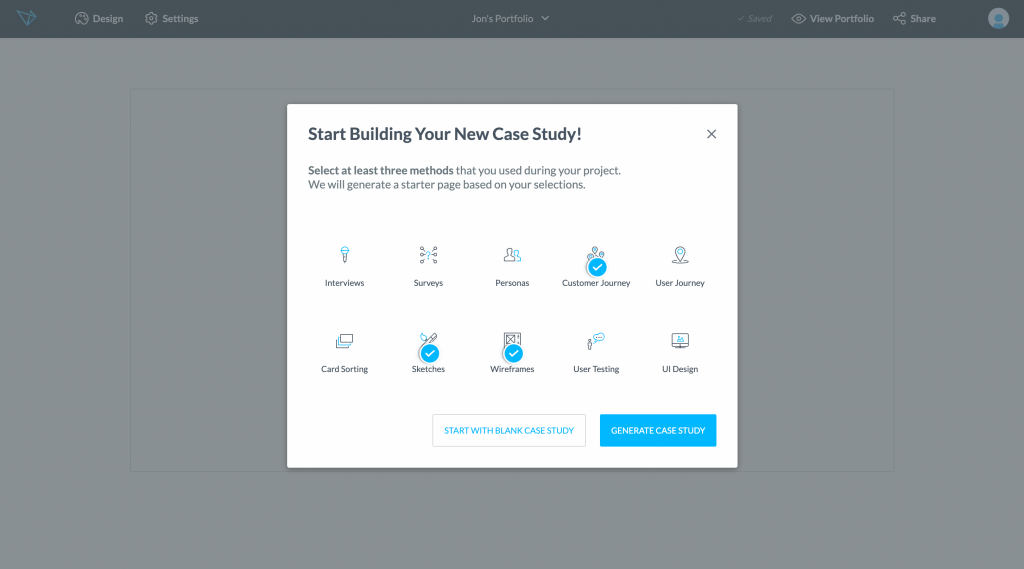 UXFolio comes with a few different templates to choose from to help with the overall aesthetic of your design portfolio. Within those templates, you can really only customize your colors as all the other customization options are behind the paid account tier. The paid account for UXFolio is $9 a month and might be something to consider as you can only add one project to your design portfolio under the free account. As a free option, it doesn't look like UXFolio is ideal if you plan to stay on that tier level but it still stands as a good option to get you up and running quickly.
You can check out my example portfolio that I built on UXFolio here.‍
Readymag
Readymag is an option I've seen floating around for a while now and I was really excited to get into the platform and finally give it a try. I went ahead and created a free account and started messing around with their website builder and it is a very cool design-centric tool. You can totally tell that Readymag was built for designers by designers. Everything about their interface just screams graphic design. It is simple, clean, and out of your way so you can really get a sense of what you are building without any distractions. This can also be a little bit troublesome being a first-time user since you may not be familiar with how to use and build inside the platform. After clicking around for a couple of minutes I was able to figure out how to build new pages, add new elements, and actually publish the website. Similar to other "Build Your Own" websites, the same applies with Readymag as you would need to build a unique page design for each new design project you would like to add to your portfolio or consider duplicating one and using that across your design portfolio. Again, not a huge problem and can actually be a blessing to really create a unique experience for each design project in your portfolio. But when it comes to speed and getting your design portfolio up and running quickly. This can ultimately take away from that.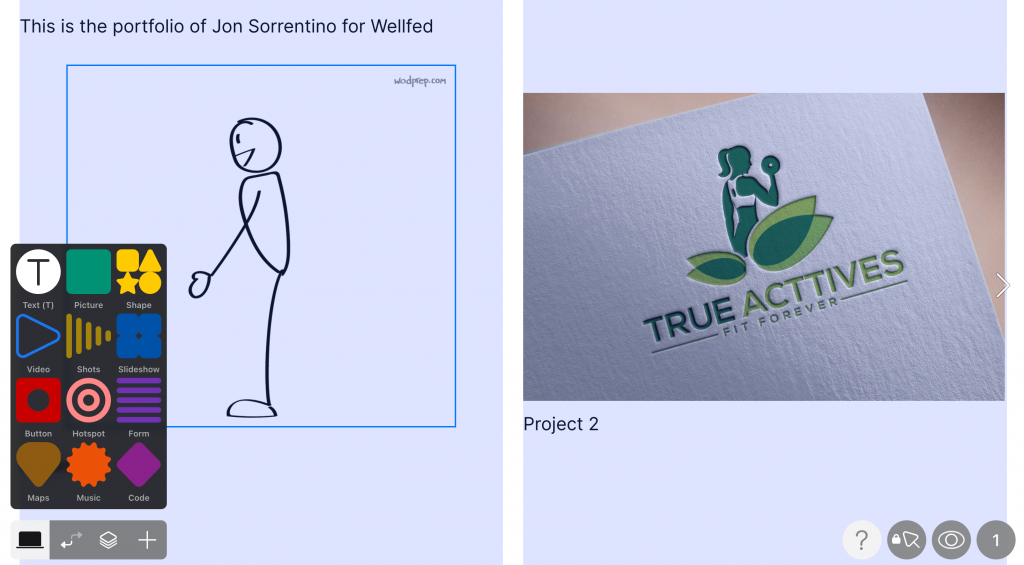 Readymag also comes with some cool features that allow you to search and plugin different images and videos from sites like Flickr and youtube right from the website builder. This is great for when you need to add some additional creative assets to your homepage or project pages and may not want to spend the time creating something unique in something like Adobe. Readymag also gives you control over the layout of your design portfolio on mobile devices so you can make sure that everything looks good but it doesn't cover the screen sizes between desktop and mobile phones.
I think Readymag is definitely an option to consider if you are looking for full customization over your design portfolio website and have some time to really tailor each page design. Readymag is completely free to use and lets you publish your website as soon as you are done designing with a Readymag URL. Check mine out here. If you want to change your URL to something custom like how we talk about in our article How To Name Your Design Portfolio Website – Don't Make This Mistake then you'll have to sign up for a paid account. Paid accounts are only $13.50 a month which is really inexpensive for a design portfolio website builder like this. You can sign up for a paid account using this special link here.
Webflow
The designer's best friend when it comes to the build your own category of free design portfolio website options. Webflow has been around for a little while now and has become very popular within the design community. I personally use it myself for client projects and even built the Wellfed website all in Webflow. I can go on about Webflow and how it is so great but realistically there is a learning curve when attempting to build something like your design portfolio with it. Webflow is a pretty feature-rich no-code website builder and grants users a deep level of customization when it comes to styling elements within a webpage. With that said it is definitely helpful to have a basic understanding of CSS & HTML as it will make the development of your design portfolio a lot smoother.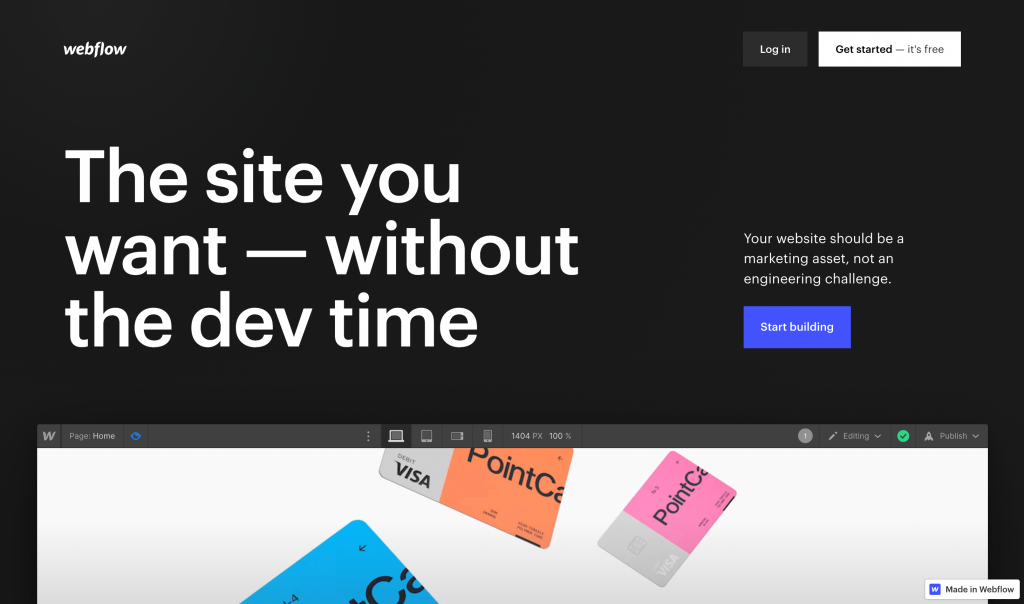 Building your design portfolio website with Webflow will take some time similar to the other options in this category as you will need to learn about how Webflow handles collections of content that are similar and either build a page template for your projects or build unique pages for each project. To get started building your design portfolio website in Webflow, all you need to do is create a free account. Within the free account, you are of course limited to what features you have available. For example, free accounts will come with a free webflow.io domain URL. If you want to use your own or choose a custom domain then you will have to upgrade to a paid account level. After signing up and entering the designer portion of Webflow you will be faced with the platform's interface. While it can be a little overwhelming at first with all the options you are able to customize, it would definitely be worth taking some time to walk through some of Webflow's educational walkthroughs to better understand how to use it.
While I am personally an advocate for the platform and really enjoy using it every time I open it up. I can say that Webflow will definitely not be the most time-friendly option when it comes to building your design portfolio website. However, taking on the challenge to learn the platform and really understand how to make it work for you will be worthwhile as you will then be able to take that knowledge along with you for client projects in the future.
If you are interested in signing up for a paid account for Webflow and adding it to your design repertoire you can check out the best prices for all of the account options. I personally use CMS and love it for all of my personal and client projects.‍
Final Thoughts on Build Your Own Design Portfolio Websites
While this category of design portfolio website options gives you full flexibility to customize your design portfolio to match your personality and style. It can also take a pretty big investment of time which may not be available to you when you are starting off as a designer needing a place for your design portfolio. With that said, I believe that Readymag is the best design portfolio website option in the build your own category for a few reasons. The first is that the interface is pretty simple to understand and will take little to no time for you to get fully comfortable building in the platform. The next reason is that the level of customization you are granted without having to learn any code is awesome. Being able to implement animations on your design portfolio projects can really elevate your design portfolio and make it stand out from others. And finally, their free account will allow you to fully publish an entire design portfolio with as many pages as you would like under a Readymag granted URL. For these reasons and more I would recommend Readymag as a great place to start building your design portfolio website.
‍Best Free "Alternative" Design Portfolio Websites
Before we get into the options for the alternative category of design portfolio website options I think it's worth noting that this category is very unique in how it is perceived amongst the design community and its functionality. At the very core of every design, a portfolio is a series of projects that describe the designer's experience, technical skills, objectives, and outcomes of a project. If you are curious about how many projects should be in your portfolio then check out our article, The Perfect Number of Projects For Your Design Portfolio Website. Within those design projects of a portfolio should be descriptions and images that tell the story of how a designer started from point A and got to point B. If you can do that well then the tool you use to convey that message should not be the most important element and that is why we have this category of alternative design portfolio website options. Now let's begin.‍
Notion
Notion is a popular productivity tool that is used by a wide range of people for a number of different things. I happen to use Notion to manage my design business, content planning, personal finances, and much more. It allows you to create pages or what they call databases where that information can be accessed around the app and also shared online. When you create a new page you are able to add imagery, text, code blocks, and a few other elements that include. There is very very little styling that can happen within the app but that is also one of the great things about it. Limitations! Removing the focus from the visual presentation of the information allows you as a designer and the viewer to really focus on the content that is displayed. Once you've finished adding your content for your design portfolio projects you can then share a public link with whoever needs to see it. Sure it doesn't have a community behind the app that can also see your work. But at the end of the day, when you're applying to jobs and emailing hiring managers, most of the time you're really just sharing links anyway so why couldn't Notion work. I think it's also worth mentioning that as I shared a few videos about this article on my TikTok account, Notion was shared in the comments a lot as a popular choice. If you are looking for something quick, easy to use, and without all worries of aesthetics, then Notion could be the tool for your next design portfolio website. As I'm writing this article I am actually considering moving my design portfolio into my account as well.‍‍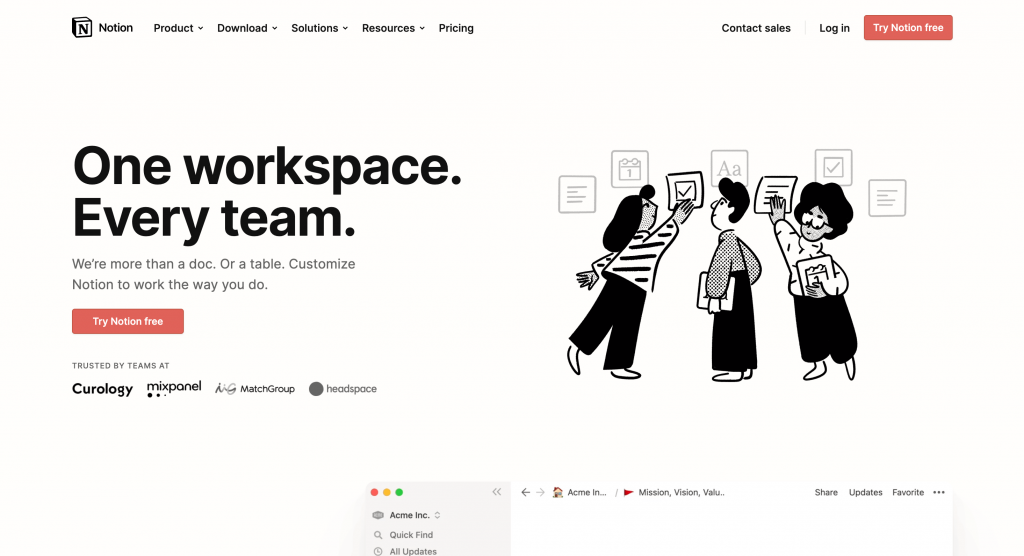 Google Docs
Good ol' Google Docs. We all know it and the chances of you have used it at least once in your life is very high. Google Docs in the Microsoft Word alternative offered by Google. It is a way to write anything you want in a document and make adjustments to that text through their formatting interface. You can also add images throughout a document that covers the two main things we need in our design portfolio projects. While Google Docs is a little rigid, again why not? For the longest time designer, writer, and guest of the podcast Carly Ayres used GoogleDocs as her portfolio/resume as you can see here. If you want to listen to her podcast episode you can check it out here.
‍‍Final Thoughts
Depending on where you are at in your design portfolio website journey there are plenty of free options for you to choose from to use as your design portfolio website. The purpose of creating the showcase, building your own, and alternative categories in this article is to help you evaluate how much time you have available and choose the option that is best for you. If you need further assistance with selecting projects, how to display your work, or what you should include in your design portfolio website. You can always sign up for a free 1-on-1 portfolio review session with me. During these 30-minute sessions we go over any questions you have and how we can work through them to level up your design portfolio and career. You can use this link here to sign up and schedule a time that works for you. As always, you can also find me on TikTok and on Instagram for any other questions you may have. See you in the next article!